We Install Steel Lintels
and Beams Toronto
Licensed Masonry and
Concrete Professionals
Steel Lintels and Beams Installation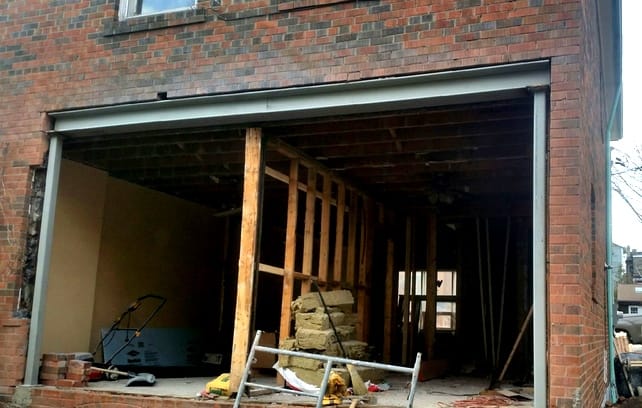 Many homeowners overlook or forget about the critical structural elements that keep the house together underneath the concrete or stone. Steel beams and lintels are crucial for structural integrity and keeping bricks and stones from falling or sagging. These get eroded or damaged over time and need replacing.
We recommend that you have your home or commercial building inspected by a professional and licensed mason at least once every 2-3 years for sound shelf-angles, steel lintels and universal beams. We provide ongoing maintenance for our residential and commercial clients which include this inspection and restoration/repairs/installations where necessary.
Signs of Steel Lintel and / or Beam Failure
It is important you know when your steel lintels or beams have been compromised. Keep in mind that this is a serious structural issue so call us immediately you notice any of these signs. Ignoring warning signs could potentially lead to wall collapse and other serious damage.
Step-cracks in brick and motor joints. The cracks tend to move outward from the upper corners doors and windows. This is a sign that the wall is attempting to accommodate expanded steel.
Bricks above the door or window are no longer straight; typically wavy or deflected.
Frequent repair or replacement of bricks in upper corners of doors and windows. This is a sign of rusted steel.
Compromised steel lintels cannot be fixed with a coat of paint and require to be replaced. Defective lintels and beams include deflected, deteriorated or corroded steel. Our experts do the necessary repairs quickly, efficiently and safely.
We Install / Replace Steel Lintels and Beams
Exactly what our masonry contractors do entirely depends on the situation they encounter on site. They begin with a thorough inspection and a full report. This usually includes the overall condition of the steel, critical repairs, replacements or maintenance if required and an opinion of the probable lifespan of the lintels or beams if no repairs or replacements are required.
We may be able to salvage slightly weakened or corroded steel if the remaining sound thickness is sufficient to safely support the concrete. Here the expert removes the damaged areas of the steel, cleans, primes, paints and reinforces to save you money on removal and replacement.
In case the steel needs to be replaced, our masons do it quickly because of the safety issues involved. Our experts guarantee the work with a warranty and treat the home or building with respect with regards to cleaning and messy construction and demolition work.
Hire Us to Install Steel Lintels and Beams
We have decades-long experience with residential and commercial masonry work including installing, repairing and replacing steel lintels and steel beams. You can expect;
Fully insured, licensed and certified masons
Repair and replacement of surrounding masonry
On time and on budget
High quality tools and materials
Call us today to request a quote or for inquiries on what we can do for you.