Cut-out Openings for Windows,
Doors and Walk out Toronto
Licensed Masonry and
Concrete Professionals
Creating windows, doors and walkouts sound like a major job but is work that we do regularly for our residential and commercial clients. We have experience working with all kinds of masonry walls including block, brick, stone and concrete. Our services also include removing existing doors, windows and walkouts and enlarging or reducing and even moving these fixtures.
Types of Cut-out Services We Offer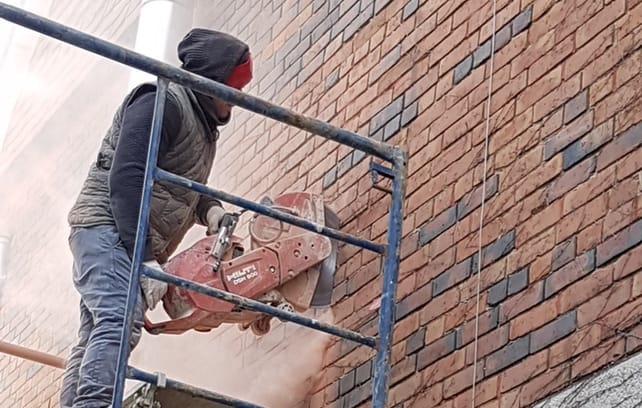 You may need an extra window or two for a dull room or need to create a secondary exit/entrance or a walkout basement when you want additional living space. Whatever your requirements, our contractors are expert at meeting your expectations. We also reuse material salvaged during the demolition process to save you money and match older-style aged stone or bricks to keep uniform aesthetics.
A window or door that doesn't seem to fit into the overall design of your home doesn't have to continue to be a source of annoyance. Removing existing doors and windows is less complicated and cheaper than creating new spaces. Again, we are careful to match existing brick or stone especially for older homes. This is a process that requires a keen eye and experience both of which our contractors bring to the job.
A window might look better if it was bigger or smaller or a door more functional a few inches to the left or right or even on the opposite side of the house. You don't have to remain slave to your architect's or designers original plans. It's your house and you should have it exactly the way you want. We reduce, increase and even move doors, windows and walk out. We have designers who can help you figure out the specifics if you only have a vague idea of where or how your openings would look better. 
Why Hire Us for Cut-Out Openings
There are guarantees that we bring to the job that are hard to replicate with DIY or letting a handy friend do the job. You can expect by hiring us;
Properly insured, licensed and bonded contractors
Accurate brick and stone matching
Additional steel lintel and other support where necessary
Clean and safe demolition
Concrete scanning to find plumbing, heating, wires or sewage
Custom masonry solutions
Trust our competent engineers and masonry contractors with your masonry cut-outs and other alternations and expect the job done right the first time around. We warranty our work and are happy to explore alternatives before work begins.
Call us today to request a consultation or to get a free quote.