Basement Slab Replacement,
Repairs and Alterations Toronto
Licensed Masonry and
Concrete Professionals
We are basement slabs contractors in Toronto with decades experience doing basement slab repairs, replacements and alterations. We offer our superior masonry services to both residential and commercial clients and have worked on all kinds of buildings and floor plans. Our contractors are appropriately trained, certified, licensed and bonded. Our basement slab services include:
Types of concrete Slab Services We Offer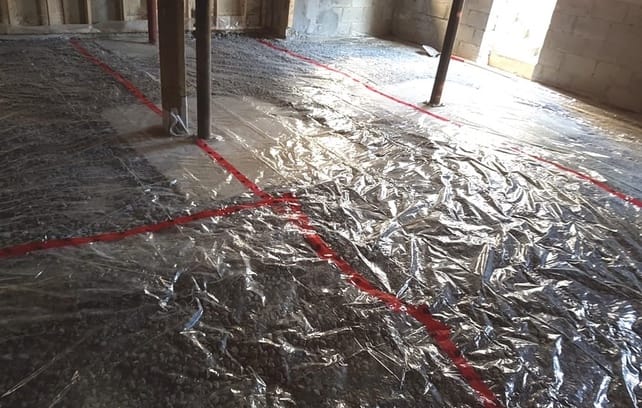 Pyrite is the leading cause of basement slab damage including cracks and heaving. Older homes are particularly vulnerable to this issue. We test and diagnose pyrite problems and perform the necessary repairs.
This is a labor intensive process that requires we remove the slab and excavate up to 8 feet to remove all the gravel under the slab. We replace the gravel with new stone that is DB certified to avoid this problem in future. We also fix other issues including ground water flooding and any other basement slab issues you might have.
Basement Slab Replacement
A big construction project such as basement slab replacement is a headache for many homeowners and we do our best to make the process as simple and easy as possible. Basement slabs take a lot of beating including from foot traffic, heavy furniture or just wear and tear that comes with age. It is also possible the previous contractor did not do a good job in the initial installation. We specialize in concrete slabs and basement floors and replace your existing slab with a new installation that will give you decades of stress-free service.
Basement Slab Alterations
You may have an unfinished basement or not happy with the basement height you have. We do all kinds of alterations including installing or finishing basement floors and slabs and excavating and underpinning existing foundation to create more useable basement space. Our foundation experts, engineers and designers work together to ensure that the project is completed seamlessly and according to your specifications.
Hire Us for Basement Repair, Replacement, Alterations Toronto
We have decades experience solving basement slab issues, installing foundations and slabs as well as altering existing floors, slabs and foundations. You can expect the following by hiring us;
Credentialed, licensed and certified contractors and engineers
Warranty on construction project
Conservative pricing
High quality materials
We insist that our contractors sit with the client to discuss any issues and expectations before work can begin to ensure that the result is exactly as you envisioned. We also do scheduled maintenance for residential and commercial clients and are happy to draw up a contract that makes sense.
Call us today to schedule an inspection or to inquire more about our basement slab contractor services Toronto.