Exceptional Stonework
and Masonry Toronto
Licensed Masonry and
Concrete Professionals
stonework services in Toronto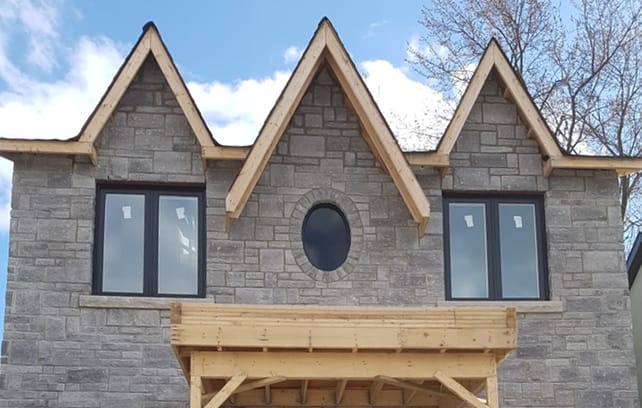 We are a full-service masonry contractor specializing in stonework for residential and commercial projects. We have decades-long experience in the industry and have streamlined our material sourcing, workmanship, tools and technology over time to provide our clients with exemplary stonework and related services.
Our stonework services in Toronto include:
Stone walls
Stone and brick re-pointing
Caulking
All kinds of masonry repairs
Stonework and brick restoration
Interior stone and brick veneer for walls and fireplaces
Specialized custom stone work
Full stones reconstruction
We have great contacts with material manufacturers and supplies that we have worked with over the decades. This record helps us to match existing stone, brick and masonry as closely as possible. Our contractors also have a keen eye for detail and nuance and notice subtle texture and color variations that aren't obvious to the untrained eye.  
Customized Outdoor Stonework and Installation
We have competent designers, engineers and masons to help bring your outdoor living space to life. We have extensive experience with outdoor stonework for fireplaces, decks, garden walls, dampers, steps, patios and walkways. Our contractors also upgrade existing patio, walkway or steps with additional stone veneer.
We also install stone retaining walls to hold back earth. These are great if you need to landscape a sloped garden, prevent soil erosion or for aesthetics.
We Restore Existing Stonework Toronto
You don't necessarily need to install new stone veneer and stonework outdoors to revive your backyard. Restoring existing stone may do the trick. For this purpose we offer;
Floor polishing
Mortar repairs
Mosaic restoration
Regrinding
Cleaning
Replacement
Repairs
Our restorations include all kinds of masonry material and stone work including natural stone, terracotta, reconstituted stone, brickwork, terrazzo and marble among others. We have special chemicals for cleaning and degreasing marble and other delicate veneer. Our replacement materials are sourced from specialists including the handful of remaining local manufacturers of highly decorative and specialist products such as faience.
Hire Us for Stonework Installation, Repair, Replacement or Restoration
We still have the old-generation pride in craftsmanship and detail while embracing new technology and techniques to provide our clients with affordable and superior stonework masonry and services. Stonemasonry is a noble tradition that we carry on with pride and dedication. What makes us stand out in the industry includes;
Experience and accreditation
Friendly, respectful and conscientious masons and contractors
Honest quotes
Intimate knowledge of building regulations and planning permission
Warranty
Call us to schedule a site visit or to request a quote. We also provide ongoing maintenance for residential and commercial clients to keep a pristine home or building and catch and fix potential problems before they become expensive.